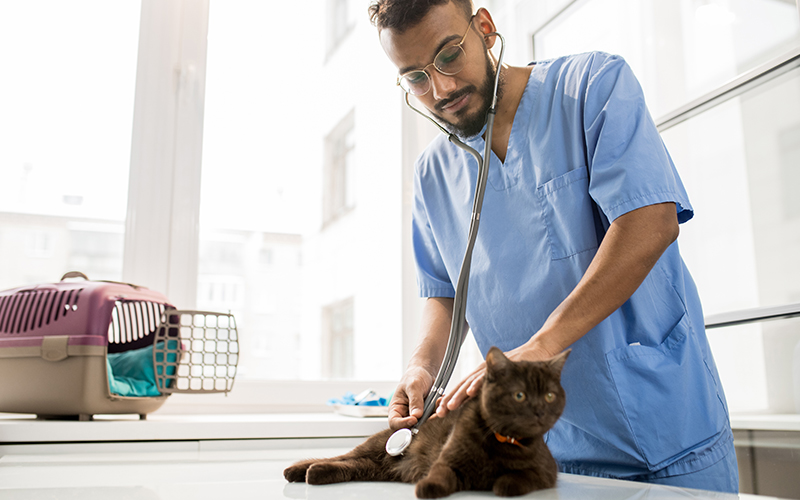 X
Search Help
Enter a country to search internationally or a city/state or zip to search within the US. If you select a country it will search only within that country. If you select only a state it will only search within that state. If you search for a zip code or city/state combo it will search within a proximity
Language (Other Than English)
What is a Board-Certified Small Animal Internal Medicine Specialist?
A Small Animal Internal Medicine Specialist is a veterinarian who has completed advanced training in internal medicine (including an internship and residency) following graduation from their veterinary college.
In human medicine, internists are often considered to be primary care providers, however in veterinary medicine they are considered specialists. After graduation with a veterinary degree, Internal Medicine Specialists complete a one-year small animal rotating internship, continuing to hone the clinical skills they developed in veterinary school. After successfully finishing an internship, these specialists must next complete a small animal medicine residency. This three-year program is an intensive graduate clinical training program intended to improve procedural skills and refine approaches to diagnostic and therapeutic plans. The residency training culminates with comprehensive examinations covering all aspects of Veterinary Small Animal Internal Medicine. Once these requirements have been fulfilled, the veterinarian is considered to be a Diplomate of the American College of Veterinary Internal Medicine (ACVIM).
What does internal medicine encompass?
The umbrella of Small Animal Internal Medicine includes many subdisciplines including gastroenterology (esophageal, stomach and intestinal disease), hepatology (liver and pancreatic disease), endocrinology (hormonal disease), infectious diseases, urology (urinary tract disease), nephrology (kidney disease), respiratory medicine (nose, airway and lung disease), and hematology & immunology (blood cell and immune-disease). In many cases, the clinical signs a patient is displaying may include many of these organ systems. Due to their comprehensive approach, Small Animal Internal Medicine Specialists may also manage cases of patients with neurologic, cardiovascular or cancerous diseases, especially when these patients also share diseases within the scope of internal medicine.
When should I see a Small Animal Internal Medicine Specialist?
Once your regular veterinarian or general practitioner has identified (or has suspicion of) a disease requiring specialist care, he or she will call a referral specialty practice to arrange for seamless transfer of care. Ideally, your veterinarian will provide the specialist with a thorough summary of diagnostics and care along with all pertinent results for the specialist to review prior to your appointment. If your animal develops a problem or illness requiring advanced care and procedures, you may seek the expertise of a veterinary specialist without a referral from your general practitioner.
How do Small Animal Internal Medicine Specialists work to advance the veterinary profession?
Along with seeing cases within their home hospital or institution, Internal Medicine Specialists are leading the way for the veterinary community in research and clinical trials to pioneer new diagnostic and treatment options for dogs and cats with acute and chronic diseases. At the forefront of research breakthroughs, specialists serve as conduits to improve the veterinary community's quality of medicine by speaking at continuing education events, publishing research abstracts, reviewing articles and consulting with general practitioners one-on-one for individual case management.
There are small animal internal medicine specialists both in private hospitals as well as at regional veterinary teaching hospitals. You can find a Small Animal Internal Medicine Specialist near you using our search tool.
---
Edited by:
Paige Mackey, DVM, MPH, DACVIM (SAIM)
April, 2020

---