Specialty Medicine Saves Life of Cat with Pancreatitis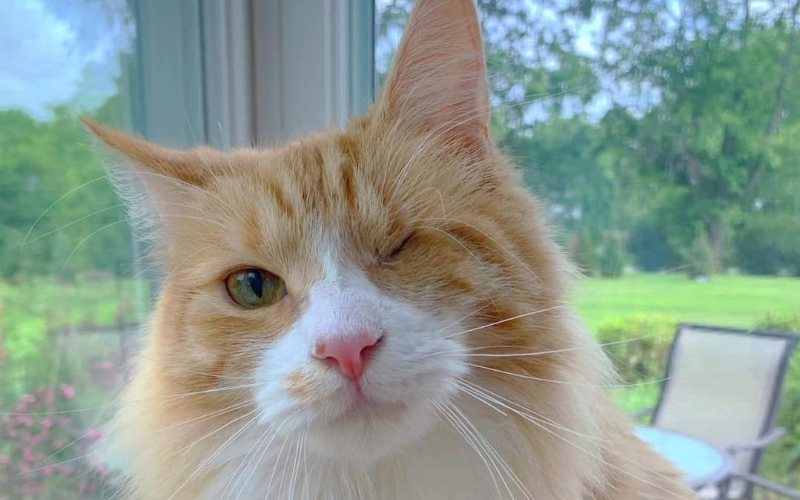 by Krystin Langer
Oct 26, 2023
When Hilary Kitchner first stumbled across a Facebook picture of an orange kitten with one eye dressed in a bow tie, her first thought was that it was too soon to adopt another cat. Her cat, Odin, had just passed away a few weeks prior and she was still reeling from the loss. However, she just couldn't seem to shake the feeling that seeing this adoptable cat on her feed was a sign that it was meant to be.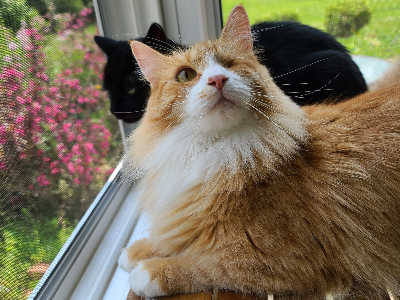 "We applied to adopt him and we were chosen, in part because we have had experience with special-needs and high medical care kittens," said Hilary. "We chose the name 'Thor' because in Norse mythology, Thor is the son of Odin (our previous cat) and he resembled Thor from the Marvel movies."
Thor was adopted from the Animal Welfare League of Ohio in January of 2021 and it quickly became clear that he had overcome significant hardships in his young life. At only six months old at the time of his rescue, Thor was described as the sickly runt of his litter and had lost his left eye due to a respiratory infection from when he was a kitten. Despite all of this hardship, his playful personality still shined through.
Thor is a lovebug and a sweetheart of a cat," said Hilary. "He was bottle-raised as a baby so he loves people, and prefers to be cradled upside down. He also loves to play, sunbathe and hang out with our other cats, Freya and Valkyrie
Another one of Thor's lovable attributes was his voracious appetite, which is why his owners found it strange when he refused to eat breakfast one day in January of 2023. Shortly after his refusal to touch his food, Hilary noticed that Thor was struggling to breathe, which is when he was brought into the Urgent Care veterinary center at the Ohio State University.
When Thor was first admitted to urgent care, the preemptive diagnosis was that he may have been suffering from an asthma attack. After a round of bloodwork and general testing, Thor was sent home and Hilary was told to bring him back if any additional symptoms showed up.
Unfortunately, that night Thor's fever spiked to 106 degrees and Hilary rushed him to the Ohio State University's Emergency Veterinary Hospital where he was immediately put on an IV to stabilize him and reduce his fever. The following day, Thor was transferred to the Internal Medicine Department at the OSU Veterinary Hospital where he was seen by Dr. Laurel Krause, a third year resident in Small Animal Internal Medicine.
"When I first had the chance to examine Thor, I noticed that his lungs checked out fine and he was actually suffering from feline pancreatitis," said Dr. Krause. "Pancreatitis is extremely painful and can cause a patient to show external symptoms such as hunched posture, loss of appetite and rapid breathing due to pain, all symptoms that Thor was exhibiting."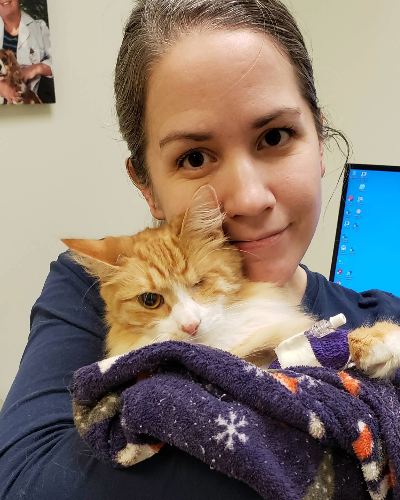 The pancreas does two important jobs: producing hormones that control blood sugar, and producing strong enzymes that help digest food. The enzymes from the pancreas are very strong and usually stay inactive until they reach the stomach where they are then are activated to break down food.
However, pancreatitis disrupts this process and causes the enzymes to be activated too soon inside the pancreas, leading to self-digestion of the pancreas which can cause severe abdominal pain and inflammation.
After diagnosing Thor with pancreatitis, Dr. Krause and her team set out to decipher where his condition had originated from. Thor had an excessive amount of inflammation in his pancreas, lymph nodes and GI tract, as well as a potassium deficit, which made it difficult to figure out which internal organ had kickstarted the inflammation.
"Blood work finally narrowed it down to the pancreas as the primary offender for Thor's pancreatitis," said Dr. Krause. "While there was no definite underlying cause for this, Thor did test positive for toxoplasmosis in his diagnostics which has been linked to pancreatitis."
Toxoplasmosis is an infection caused by a microscopic parasite called Toxoplasma gondii. Cats can become infected with toxoplasmosis by eating contaminated animals or scat.
Although helpful in understanding the origination, and potential cause, of Thor's condition, his pancreatitis was on the spectrum of severe and potentially fatal which meant that Dr. Krause had to act fast to save his life.
---
"There is a lot more known in veterinary medicine now than there was five to ten years ago. A diagnosis that may have once been the end of the road for your pet, might not be the case anymore, so it is always worth it to visit a veterinary specialist to learn about all of your options."

---
The main objectives in treating feline pancreatitis include addressing dehydration, nausea, pain, and ensuring proper nutrition. Mild cases can often be managed with at-home care, however severe and sudden pancreatitis, such as in Thor's case, may require prolonged hospitalization, pain medication, and nutritional support.
Thor was kept at the OSU Veterinary Hospital for seven days and monitored by Dr. Krause and her team as he received intensive care for his pancreatitis. Due to the severity of his pancreatitis, Thor had lost about half of his body weight and was down to only seven pounds. Because of this drastic weight loss and his inability to eat, one of Dr. Krause's main focuses was on ensuring that he received plenty of fluids, electrolytes and calories through his IV.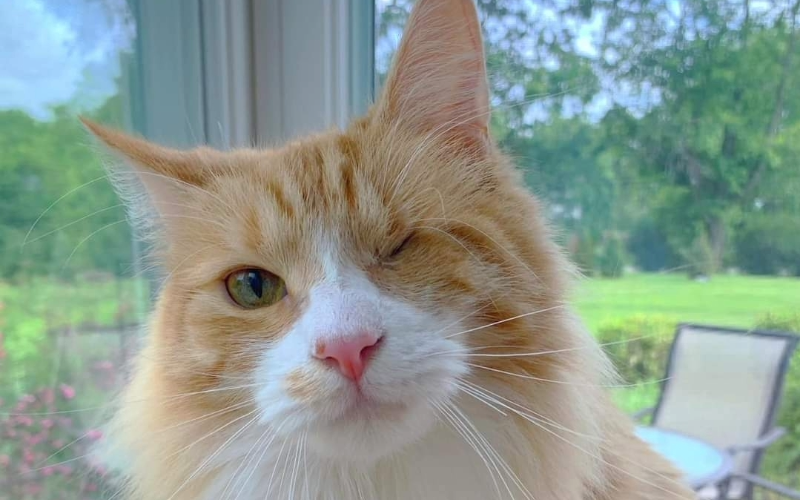 "During his stay at the hospital, Dr. Krause and her whole team were amazing at keeping us in the loop of everything that they were trying," said Hilary. "My husband and I are medical writers and understand medical terminology, so we asked her to not hold back on the 'big words', and she was happy to walk us through his exact treatment and the pros and cons of everything."
After a week of consistent monitoring, Thor's condition was finally stabilized, and he began to show significant signs of improvement. Once he was discharged from the OSU Veterinary Hospital, he was allowed to go home to his owners who were tasked with administering injectable pain medication for the next month as well as potassium pills to help with his potassium deficit.
Although still on the path to full recovery, life for Thor has all but returned to normal. According to Hilary, in addition to a healthy weight gain and the ability to eat on his own, Thor has resumed his favorite activities of playing with his siblings (Freya and Valkyrie) and sunbathing by the window.
When asked what she would like other animal owners to understand about veterinary specialty medicine, Hilary says that she wants them to know the pivotal role that specialty medicine can play in giving your pet another chance at life.
"There is a lot more known in veterinary medicine now than there was five to ten years ago. A diagnosis that may have once been the end of the road for your pet, might not be the case anymore, so it is always worth it to visit a veterinary specialist to learn about all of your options," says Hilary.
"If it wasn't for specialists, like Dr. Krause and her team, we would have lost Thor very quickly. Veterinary specialty medicine saved his life."

Browse animal health articles by specialty
Find animal health articles by animal