Chronic Kidney Disease: How a Veterinary Nutritionist Can Help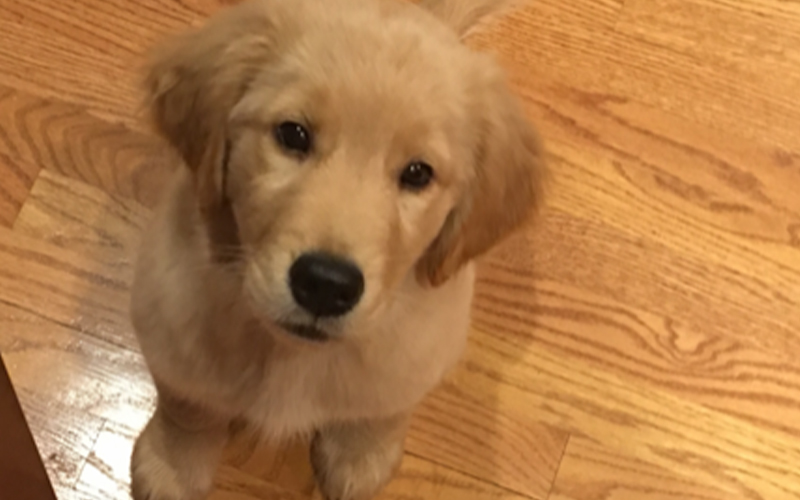 by Krystin Langer
Dec 20, 2022
Adopted in June of 2019, Romi is the fifth golden retriever in the household history of her pet parents, who are big fans of the breed. The couple had even adopted Romi's uncle before he sadly passed away from cancer at age eight. But despite having owned four other goldens, Romi's parents say she was different from the start.
"All goldens are affectionate and entertaining, but she's the feistiest and smartest we've had," Romi's pet mom says. "But that means you can really tell when she doesn't feel well. It's really obvious."
The breeder had told them that Romi wasn't a good eater, and the couple initially felt that was something they could handle. When they brought her home, however, they noticed that her appetite never increased. She also started leaking urine in her sleep.
They took Romi to their primary care veterinarian at the time, who treated her for what was believed to be an early urinary tract infection. Lab work also showed that Romi's kidney value creatinine was higher than normal, a sign of possible poor kidney function. The eight-month-old puppy was then referred to a Small Animal Internal Medicine Specialist at BluePearl Pet Hospital in Raleigh, North Carolina.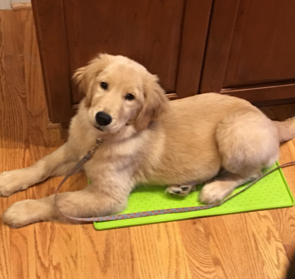 Further testing led to a diagnosis of juvenile chronic kidney (renal) disease, a congenital condition, or one that Romi was likely born with. Dr. Sirima Yaemsiri, Romi's current internal medicine specialist, says that the cause of Romi's kidney disease was most likely renal dysplasia, a condition that occurs when the urine-producing structures of the kidneys don't fully develop in the womb. This condition is most commonly seen in younger dogs, and Romi appeared to be among those puppies affected.
Romi's dedicated pet parents scoured the internet to learn more about her condition. They soon learned from both outside sources and veterinary specialists that the best treatment would be proper nutrition and diet.
This is when the couple sought the expertise of Board-certified Veterinary Nutritionist, Dr. Lindsey Bullen, who would help them develop an expert plan for Romi's diet going forward.
Every juvenile chronic kidney disease case is tricky, according to Dr. Bullen. Young dogs like Romi need plenty of protein to grow but have kidneys that struggle to process too much protein.
Prior to her diagnosis, Romi was eating whatever seemingly healthy dog food her concerned parents could get her to eat. After the diagnosis, Dr. Bullen recommended they switch to a kidney-friendly, commercially available dog food with a more balanced level of protein.
Romi's pet mom says she immediately felt guilty about all the treats they'd been giving to the finicky eater: "We'd been giving her all these high-protein chews, and I thought, 'Oh no, she's been having all the wrong things. I told Dr. Bullen, 'I feel like I was poisoning the dog.' But Dr. Bullen said, 'You're doing the best things for her now,' and she really held our hands through the process."
---
"You realize you're giving this dog the most important medicine she's getting, and if it's not correct, it'll continue to damage her kidneys."
---
Dr. Bullen told them that Romi's condition would mostly depend on how well she responded to the new diet. Thankfully, she took to the new kidney-friendly food right away.
However, Romi's dietary needs shifted over time. Renal health diets can be high in potassium, phosphorous and fat, which Romi's kidneys eventually struggled to process.
"Poor Romi ended up getting pancreatitis," Dr. Bullen says, when the pancreas struggles to process a lot of fat and can lead to diarrhea, vomiting and damage to the pancreas itself.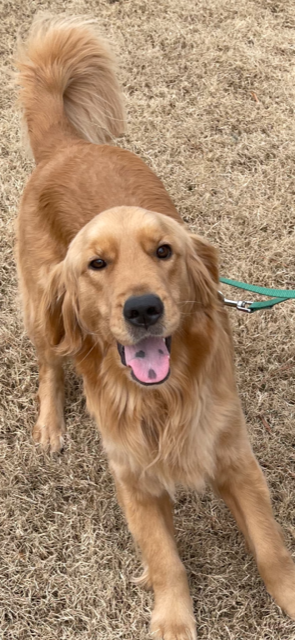 Dr. Bullen recommended they switch to a home-cooked diet in the summer of 2021. "At that time, my husband I weren't really even cooking for ourselves," Romi's pet mom says. "But we got the recipe from Dr. Bullen and learned how to batch-cook Romi's food once a week." Fortunately, Romi's golden retriever appetite was right there, ready to enjoy the home-cooked diet.
Dr. Bullen's nutritional plan included different options in case Romi turned up her nose at a particular ingredient and added necessary supplements and micronutrients to make sure the home-cooked meal was properly balanced.
Cooking brought the family closer, too, as Romi would stick around the kitchen and happily sample tastes while they batch-cooked her meals. The couple would sometimes even make extra of whatever Romi was eating—things like chicken and green beans—and eat it themselves. Romi now loves healthier treats like air-popped popcorn and gets plenty of water, which is important for kidney function, by eating crunchy, broth-flavored ice cubes.
Romi's pet mom says the entire process was a lot of work, but that it also felt empowering: "You realize you're giving this dog the most important medicine she's getting, and if it's not correct, it'll continue to damage her kidneys."
The change to home-cooked meals has supported Romi's health as she transitioned from stage 2 to stage 3 kidney disease, with slowly rising kidney values on her lab work. Unfortunately, perfect diet or not, chronic kidney disease often leads to a shorter life span.
"Kidneys just don't have good regenerative capabilities," Dr. Bullen says. Better hydration, better nutrition, regular veterinary diagnostics to check kidneys and prompt treatment of secondary issues, like digestive problems, can all help but won't cure the underlying disease. Prognosis is often a guessing game.
Romi, who turned three in March, continues to live with stage 3 chronic kidney disease. She eats her home-cooked meals, deals with inflammation in her colon and other digestive issues, and enjoys a lot of help and support from her pet parents and a team of veterinary professionals.
Romi's current primary care veterinarian, Dr. David Krakowski, keeps Romi comfortable by treating her occasional urinary tract infections, digestive and other health issues. Internist Dr. Yaemsiri keeps an eye on Romi's blood pressure, blood work, ultrasound results and urinalysis, and nutritionist Dr. Bullen tweaks Romi's diet as needed.
Romi's health and happiness have benefited from the consistent and continual care from all of her doctors working together, and especially Dr. Bullen, who stuck with Romi's case even after transferring to a different hospital. That commitment has meant the world to Romi's pet parents: "We tell Dr. Bullen she was our superhero."
From her corner of the triad of care, Dr. Bullen says that Romi's pet parents have also done an outstanding job communicating regularly, tracking Romi's condition, and sticking, as best they can, to the diet recommendations. They're experts at observing, she says: "On a video appointment, they can answer the question, 'Did Romi have any weird poops?' and compare it to the fecal scoring chart I've given them."
Balancing cost, time and a pet's changing quality of life all enter into any pet parent's decision-making as they weigh their options. While Romi's owners were faced early on with the news that she might be around for fewer years than their other goldens, they have dedicated themselves to ensuring Romi is living a full life.
"She's crammed in more in three years than any other dog we've had."
Browse animal health articles by specialty
Find animal health articles by animal