Dog's Diagnosis of Bladder Cancer Improved Through Advancements in Veterinary Oncology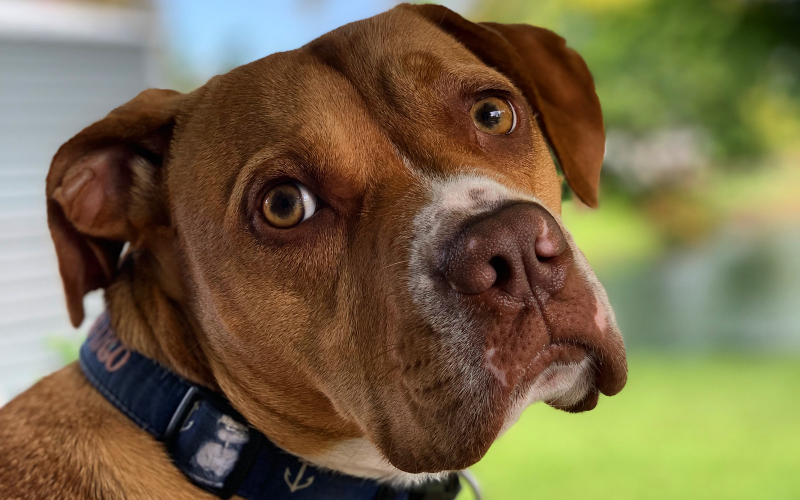 by Krystin Langer
Apr 12, 2023
Described as both loyal and a troublemaker, Carolina's story begins at seven weeks old when she was adopted by Meaghan and her husband, Dan as the runt in a litter of black mouth cur puppies. Although they had not planned on bringing home a furry addition to their family that day, Meaghan says that she absolutely chose them. As nautical enthusiasts, Meaghan and Dan chose to name their new pup Carolina after their Carolina skiff.
As she got older, Carolina's energetic personality began to shine through. Between golf cart rides, road trips and boating, Meaghan describes her as an extremely active dog with a love for the water.
"Carolina's favorite thing in the world is riding in the boat," said Meaghan. "She is in the boat every day, even if the boat is not moving."
During one of their summer trips to Michigan, her owners noticed that she was compulsively urinating and after monitoring this behavior they took her to their primary veterinarian for a perceived UTI. After a few weeks of medication with no noticeable improvement, the veterinarian conducted an ultrasound which revealed that Carolina had a tumor in her bladder. At only five years old and in peak physical condition, Carolina's owners were understandably shocked and devastated at the news.
After researching her condition and talking with a veterinarian in their family, Meaghan and her husband decided to seek out the expertise of a Veterinary Oncologist from the Animal Cancer Care Clinic (ACCC). The ACCC is a Florida-based network of eight cancer treatment facilities that specialize in all aspects of cancer treatment from surgery to radiation therapy to chemotherapy.
During their consultation with Board-Certified Small Animal Internal Medicine Specialist and ACCC Veterinary Oncologist Dr. Maria Camps, they learned more about Carolina's diagnosis of bladder cancer, known as TCC (transitional cell carcinoma), and were informed of the various options to treat her condition. Due to the location of her tumor, surgery was not a choice which left radiation therapy as the most viable option. For Meaghan and Dan, it was important that Carolina's treatment was given over a set period of time and wouldn't cause side effects that would diminish her quality of life, such as chemotherapy can.
After discussing their desires for Carolina's treatment with Dr. Camps along with Board-Certified ACCC Veterinary Oncologist, Dr. Stephanie Correa and Board-certified ACCC Veterinary Radiation Oncologist, Dr. Jarred Lyons, they were able to learn more about what radiation therapy would entail.
"If we can treat it aggressively now, hopefully we can still have years with her," said Meaghan. "When we were looking at treatment options it was, 'what can give the cancer a big punch now but not damage her long term'."
"Radiation oncology involves using x-rays to target cancer cells to try to kill them," said Dr. Lyons, "When we treat bladder tumors, the local treatment is to use radiation or x-rays to kill the cancer that is there."
Radiation therapy is performed by a linear accelerator which works by sending x-rays in the form of a targeted beam to the exact location of the cancer cells in order to shrink or stunt their unrestricted growth without damaging any of the healthy cells.
Carolina's set treatment was 20 days of radiation dispersed by using a linear accelerator where she received small doses of x-ray beams to her urinary tract and bladder to help diminish the growth of her tumor. These radiation therapy sessions generally took between 15-20 minutes each day.
Although radiation therapy is not always effective for every cancer case, Carolina's response to this treatment was exceptional.
"What we expect when we do radiation therapy on a patient is that we stunt the cancer to stop it from growing," said Dr. Correa. "In Carolina's case we even did a bit better because we were able to shrink her tumor by about 50% with the radiation therapy and her tumor has now been stable for a prolonged period of time."
While the advancements in veterinary radiation therapy have been crucial in Carolina's road to recovery, the honest communication about the course of her future with TCC from Dr. Correa and Dr. Camps have also played a large role in the success of her treatment.
"TCC bladder cancer is very scary when you read the literature online, it seems like a death sentence for dogs," said Meaghan. "What helped was being able to talk to veterinary cancer specialists and knowing that there are treatments out there that can prolong that [her life]."
While a diagnosis of cancer for your beloved pet can seem like the end of the world, Dr. Correa wants animal owners to know that Veterinary Oncologists are here to provide the answers that are needed to make a rationale decision.
"Sometimes clients feel like it's scary to go to a specialist," said Dr. Correa. "We want to be able to lay everything out for the client and walk the patient and client through all of the different options. Hearing what all the options are is very valuable so that they can know what is out there."
---

"What helped was being able to talk to veterinary cancer specialists and knowing that there are treatments out there that can prolong that [her life]."

---
Thankfully for Carolina's case, her prognosis has made a significant improvement. After completing her rounds of radiation therapy, she now only comes into the veterinary clinic for monitoring and receiving pets from the veterinary specialists who helped her. Although the radiation therapy is not a cure for cancer, it did shrink and stabilize the unrestrained pace in which Carolina's tumor was growing which will possibly add years onto her life.
Carolina recently turned six years old and Meaghan shares that, despite her ongoing medical condition, she is living her best life on land and in the water. When asked what advice she would give to someone facing a similar diagnosis for their pet, she recommends considering all the options that you have.
"For other animal owners, it comes down to that interaction with a veterinary specialist," said Meaghan. "It is important to and get an expert opinion on how to move forward in the best way for yourself and your pet."
Browse animal health articles by specialty
Find animal health articles by animal