Jan 26, 2023, 11:48 AM by Krystin Langer
In 2016, Michele rescued a one-year-old chihuahua, whom she named Bumper, from a shelter in California that was euthanizing dogs. In her short life, Bumper had already endured a serious car accident that had broken both her leg and hip. Despite her injuries, Bumper didn't lose her exuberant personality. Michele describes her as being a sweet-tempered, energetic puppy who loved to play and learn tricks. A full year after she was adopted, Michele had noticed that Bumper had started to lose her appetite and began acting as though she was in pain. She also noticed that when Bumper was eating, she was regurgitating and making noises as if something was wet in her lungs.
Michele took Bumper to several vets, but it wasn't until visiting the North Peninsula Vet Emergency Clinic that they were able to diagnose Bumper with aspiration pneumonia and megaesophagus. Megaesophagus is considered a combination disorder in which the esophagus (the tube that carries food and liquid between the mouth and stomach) gets larger and loses its ability to move food into the stomach, which in turn can cause dogs to choke and regurgitate on their food.
After receiving Bumper's diagnosis and researching megaesophagus in dogs, Michele decided to find specialty care for Bumper and learn more about her condition from a Board-certified veterinary specialist. Since she had previously worked for a veterinarian, Michele knew of a Small Animal Internal Medicine Specialist at the Sequoia Veterinary Hospital, Linda Jorgensen, DVM, DACVIM (SAIM), who specializes in gastroenterology. Bumper began visiting Dr. Jorgensen often and Michele would frequently email and call to ask her questions about Bumper's condition. To help combat her constant regurgitation while eating, Bumper had begun using an upright chair, also known as a Bailey chair, that allows her to stay seated in a 'begging' position during meals. Sitting in this position allows gravity to move food down toward the stomach since, with her condition, the esophagus is no longer able to provide this function.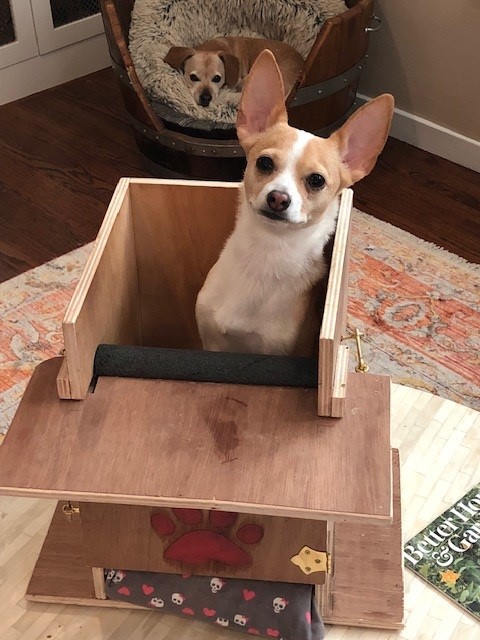 While doing additional research on dogs with megaesophagus, Michele stumbled upon a group called the Upright Canine Brigade (UCB), which is dedicated to spreading awareness and supporting those with pets affected by megaesophagus. Through this group, Michele was connected to other dog owners and was able to access more information about megaesophagus and the possible treatments that could help Bumper's related symptoms. Michele also discovered Jillian Haines DVM, MS, DACVIM (SAIM), a Small Animal Internal Medicine Specialist and Associate Professor at the Washington State University College of Veterinary Medicine who specializes in helping dogs with megaesophagus and offers feeding evaluations
Dr. Haines first discovered her interest in megaesophagus while she was fostering a dog who had been hit by a car and subsequently developed megaesophagus. However, while researching the condition, Dr. Haines discovered that even though there was a dedicated support group and website, the UCB, there was an evident lack of medical resources for dogs with megaesophagus.
"I started looking for resources online and came across some client lead groups and started using some of the ideas for my new dog, Cake. One of the veterinary students built her a Bailey chair and surprisingly enough she started to do well," said Dr. Haines. "I was still very curious about the condition and that was when I did my first megaesophagus related research study. For the study, I utilized the same online groups to recruit candidates and I was blown away by the amazing response I got from owners and the extreme dedication they had for their dogs."
Since her introduction to megaesophagus, Dr. Haines has devoted a large amount of her veterinary career to performing studies that feature dogs with this condition. Although the reported lifespan of dogs with megaesophagus is fairly poor, with some living only an average of one to three months after diagnosis, Dr. Haines discovered that a majority of the dogs used in those studies were already in an poor state of health and that many of them had passed away from complications or euthanasian. Contrast to the results from these previous studies, Dr. Haines found that a diagnosis of megaesophagus was not necessarily as grave and that many dogs could still sustain long lives, despite their prognosis.
"In a recent study that we did here at WSU using a healthy population of dogs with stable megaesophagus, we were not able to actually report a median survival rate because the dogs overall did so well," she said. "Seventy percent were alive 46–777 days after their last recheck exam."
When Michele reached out to Dr. Haines, she had already started Bumper on standard medical management for megaesophagus, which involves eating her meals in an upright position, using her Bailey chair, and being fed a combination of wet food and soaked kibble. Prior to her visit, Dr. Jorgensen sent over Bumper's records to Dr. Haines to help evaluate her condition and prepare for her consultation. Although the cause of her megaesophagus is unknown, Dr. Haines speculated that Bumper's diagnosis may have been caused from the trauma that she endured from the car accident she was in prior to her adoption.
Because of these circumstances, Bumper's condition is referred to as idiopathic acquired megaesophagus (meaning that the cause is unknown) in the veterinary profession. In order to determine the severity of Bumper's diagnosis and test the function of her esophagus and lower esophagus sphincter, Dr. Haines performed a video fluoroscopic (VF) feeding evaluation, which allows her to see an x-ray of Bumper swallowing.
"For this procedure, she was placed in a begging position in a Bailey chair and offered different consistencies including liquid, slurry, and meatballs in a systematic manner," said Dr. Haines. "We were therefore able to get a full picture of her megaesophagus and evaluate the best methods for feeding her, including the best consistency, time needed to be spent upright after meals, and to look for other issues such as alterations in swallowing or gastroesophageal reflux that we can sometimes see along with megaesophagus."
Watch Bumper's video fluoroscopy below:
The results of the video fluoroscopic evaluation showed that, in addition to Bumper's poor esophageal function, she had a difficulty with swallowing liquids and a gastroesophageal reflux. Due to these results, Dr. Haines recommended that Michele reduce Bumper's time in the Bailey chair and begin her on medications (Prilosec and metoclopramide) that would help treat her esophagitis and reduce her reflux. Additionally, Dr. Haines provided suggestions for the type of diet that would be best for Bumper's condition.
"We were able to identify that a meatball or slurry food consistency passed best through her esophagus and stimulated her LES to open. In fact, the food passed into her stomach within just a couple of minutes," said Dr. Haines.
According to Dr. Haines, management plays a large part in being able to control the symptoms and progression of megaesophagus in dogs, and dietary alterations is one of the most important aspects to regulate. The UCB offers a variety of resources for pet owners who have a dog with megaesophagus, including recipes. In addition to the recipes that have been shared by members of the UCB, there is also a free cookbook that contains several different ways to make meatballs, slurries and treats in a manner that may be more appealing to eat.
In addition to implementing a new diet and a consistent medication regimen that was prescribed by Dr. Haines, Michele began taking Bumper to receive laser therapy and chiropractic sessions, which helps to alleviate the pain associated with megaesophagus.
Four years since her diagnosis, Bumper's condition has continued to stabilize, and her megaesophagus-related symptoms have begun to improve. Dr. Haines believes that Michele's commitment to helping Bumper, and other dogs with megaesophagus, has played a large part in the success of her treatment.
"Michele was so dedicated and willing to make the long journey from California to Washington to see me and to have a VF feeding evaluation done so that they could get all the information possible about her condition," said Dr. Haines. "She has also helped spread the information she learned during her visit with us to other owners of dogs with megaesophagus (via the UCB), so that others could benefit and consider having the testing done for their own dog."
In regards to developing new treatments for other dogs diagnosed with megaesophagus, Dr. Haines is hopeful that through her continued research, more options will become available for managing the symptoms and improving the overall quality of life in affected animals.
"Recently we published a study looking at the medication sildenafil (Viagra) in the American Journal of Veterinary Research as a therapy to improve medical management of dogs with megaesophagus. When compared to a placebo control, we found that liquid sildenafil (Viagra) reduced episodes of regurgitation and improved weight gain in dogs with megaesophagus after a two-week course," said Dr. Haines. "This therapy shows a lot of promise for certain dogs with megaesophagus, though the benefits may be somewhat individual to the patient."
There are thousands of dogs that are living with megaesophagus and through the continued advancement of veterinary specialty medicine, these pets could be given a second chance at life. It is important for animal owners to understand how vital it is to seek out a Board-certified veterinary specialist for your pet's medical condition when it comes to diagnosis and treatment.
---
"The specialist you see completely dedicates their time solely to just that type of condition and therefore has a unique perspective and insight to offer. A specialist will then work closely with your family veterinarian to guide your pet's care, so that your pet has an entire veterinary team working to help them feel better," said Dr. Haines.
---
Bumper recently turned 7-years-old, and Michele believes that through the combined support of veterinary specialists, such as Dr. Jorgenson and Dr.Haines, and the UCB, Bumper has been able to regain her quality of life.
"I would say that megaesophagus is not a death sentence, and it can be managed with a lot of love and time and patience," said Michele. "Having a dog with special needs like this creates a bond."