Jul 5, 2022, 18:58 PM by Michelle Hardy
Fiona the Boxer is a bit of a celebrity at Colorado State University's Flint Animal Cancer Center.
"She's just so happy and excited to see us," says Dr. Rebecca Packer, Board-certified Veterinary Neurologist. "She wiggles her whole back end."
The all-white Boxer is completely deaf, with one blue eye, one brown one and a permanent goofy grin. "Most people can't look at her and not smile," her owner Michelle Beston says.
Considering how much joy Fiona radiates, you would never guess that she's battling a serious form of brain cancer.
---

"The median survival rate for gliomas that are untreated is about five weeks in dogs."

---
Her journey started in 2019, when the then eight-year-old Fiona began to have seizures. Having fostered and rescued dogs throughout her life, Michelle had been through multiple illnesses and diseases with her dogs before and knew about the availability of veterinary specialty treatment. She immediately took Fiona to a local specialty practice for an MRI, which revealed a tumor on the Boxer's brain that was suspected to be a glioma.
"Historically, gliomas carry a very poor prognosis," Dr. Packer explains. "The median survival for gliomas that are untreated is about five weeks in dogs." Even with treatment, dogs with gliomas typically survive only 3-12 months.
Devastated by this news but ready to fight, Michelle planned to pursue radiation therapy but experienced a setback when the necessary equipment at a local specialty practice was down for maintenance. Knowing she didn't have time to waste, Michelle reached out to the Neurology service at Colorado State University's (CSU) James L. Voss Veterinary Teaching Hospital, which was further from her home but well-equipped to treat Fiona.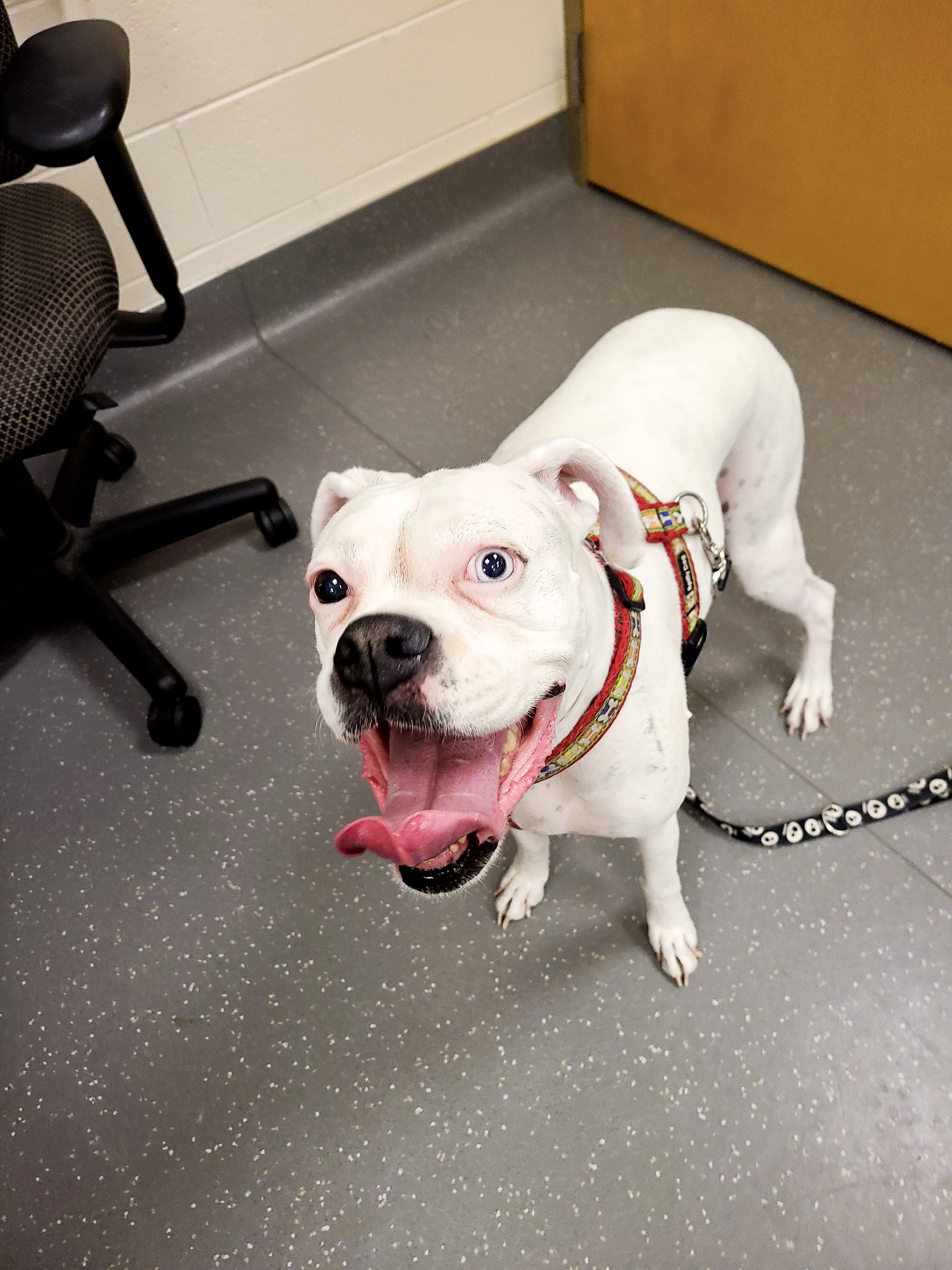 At her visit to CSU, Michelle met with a team of veterinary specialists to determine what Fiona's treatment plan would be going forward. That's when participation in a clinical trial was first suggested.
"They said 'we do have a clinical trial, if it is a glioma brain tumor, then we have this option,'" Michelle recalls.
The clinical trial in question was developed at the Flint Animal Cancer Center (FACC) at CSU to study a potential new treatment for dogs with gliomas, which are a particularly aggressive type of brain tumor typically only treatable with radiation, surgery, or a combination of the two. The trial would test a tumor vaccine that, when given in combination with other medications, researchers hoped would teach the body to attack cancer cells in glioma tumors.
"We decided to go ahead and enroll," Michelle says. She and the team at the FACC were hopeful that by participating in the study, Fiona would survive beyond her initial prognosis while contributing to the future of treatment for dogs with glioma tumors.
Once it was confirmed that Fiona's tumor was indeed a glioma, she began receiving the vaccine via injection during monthly visits to the FACC. Though it was a significant commitment for Michelle and a long trip to make each month, she was dedicated to giving Fiona her best possible chance at a longer life, despite not knowing how much more time she would get.
---

"We're hopeful that the brain cancer work that Fiona's a part of will also lead to treatments for kids with brain cancer."

---
It's safe to say that Michelle never expected that after receiving her first vaccine in July of 2019, Fiona would still be enjoying a happy and active life nearly three years later.
"Fiona's case stands out primarily just because she has had such a great success," says Breonna Kusick, Neurology Clinical Trials Coordinator at CSU and one of Fiona's biggest fans. "She's at almost a full three years since her original diagnosis, which is absolutely incredible. She's responded so well to the treatment."
Fiona's success is not only promising for veterinary medicine, but for human medicine as well. Gliomas are one of the most common brain tumors in children, and researchers are hopeful that the vaccine Fiona received can one day be used to treat kids.
"The trial Fiona is a part of actually came out of our work with bone cancer in dogs," explains CSU Professor Dr. Steven Dow, Board-certified Veterinary Internist and head of the clinical trial. "The bone cancer work now is moving to pediatric bone cancer trials, so we're hopeful that the brain cancer work that Fiona's a part of will also lead to treatments for kids with brain cancer."
Dr. Dow says that this kind of valuable medical research would not be possible without dedicated owners like Michelle.
"Fiona makes this possible because Fiona's owner makes this possible," says Dr. Dow. "Her owner is committed obviously not only to Fiona's health, but also to contributing to medical research in general and advancing the treatment for brain cancer for other patients."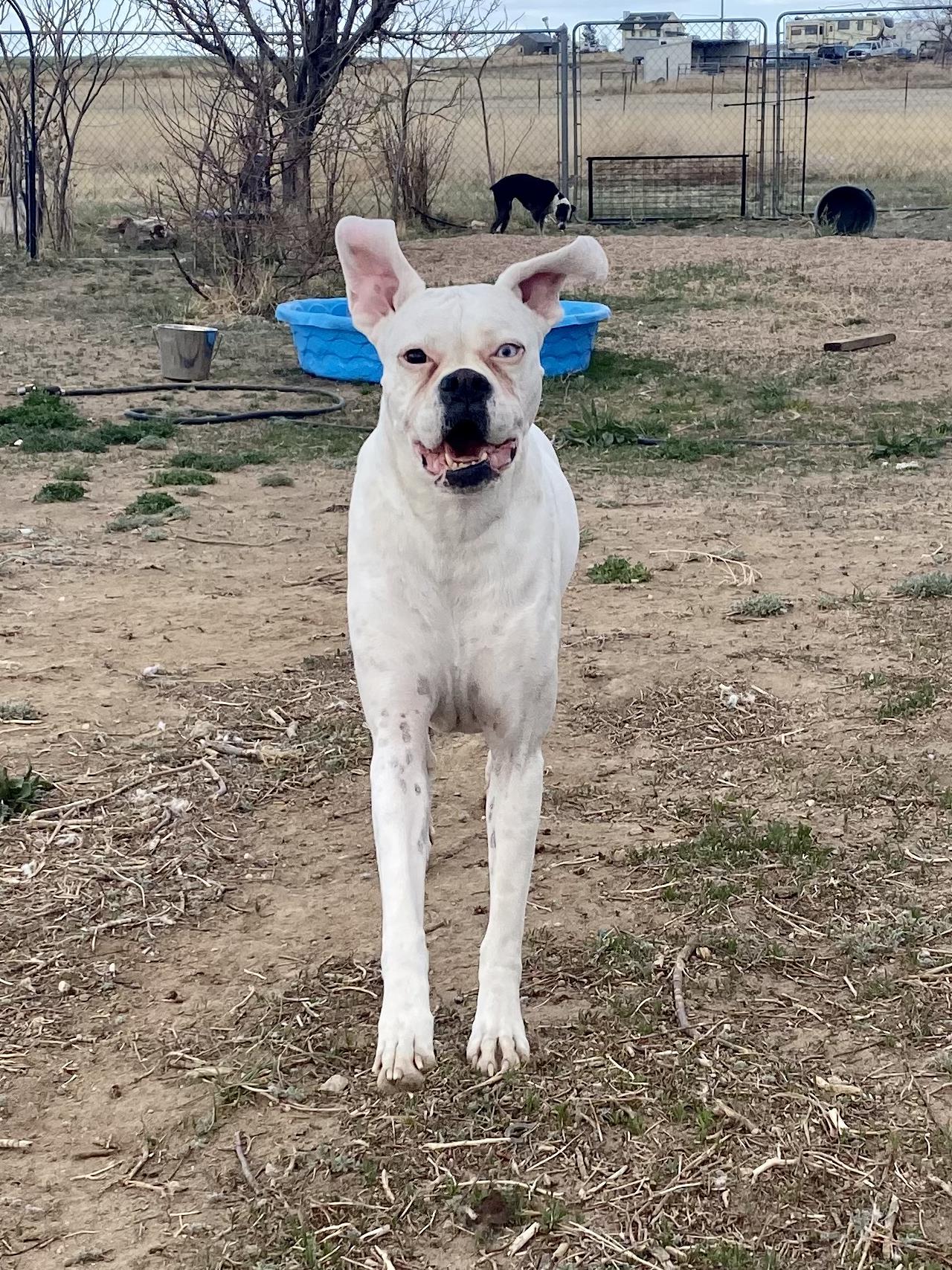 For animal owners interested in exploring clinical trials, Dr. Kristen Weishaar, Board-certified Veterinary Oncologist and Director of Clinical Trials at the FACC, says there are a number of ways to get involved.
"Sometimes [your local veterinarian] will have information about clinical trials that are being conducted in the area," Dr. Weishaar says. She also recommends searching university websites and using the AVMA's Animal Health Studies Database to find clinical trials that your pet might qualify for.
Now eleven years old, Fiona receives regular physical exams and periodic MRIs to monitor the growth of her tumor, which has remained stable throughout the study. Michelle is extremely grateful for the additional time she has with her beloved Fiona and for the role the smiley Boxer has played in advancing cancer research.
"I hope that what they've learned with Fiona they can use for others," she says. "Cancer is something that I think affects most everybody, so it's definitely important to do more research and see what we can do to fight this."
---
Author's note:
Shortly after conducting the interviews for this article, Fiona sadly passed away following complications related to the recent growth of a different type of tumor in her brain. As the longest living participant of the glioma vaccine clinical trial, lessons learned from her success will go on to improve the lives of future dogs and humans diagnosed with glioma tumors. Fiona touched the lives of so many with her happy-go-lucky personality and will be warmly remembered by all who met her.